Exhauster
Self Contained Fume/Vapor Extraction System
The self contained fume/vapor Extractor System is designed to provide an easy means of obtaining exhaust flow for your spinner. This unit is excellent in environments with inadequate or non-existing facility exhaust connections.
The system consists of a spark proof exhaust blower unit mounted on top of a 5-gallon collector can, two dampered inlet tubes and one outlet tube. Exhaust flex hose and clamps are also provided. The collector can is capable of trapping fluids or cobwebs before they reach the blower unit.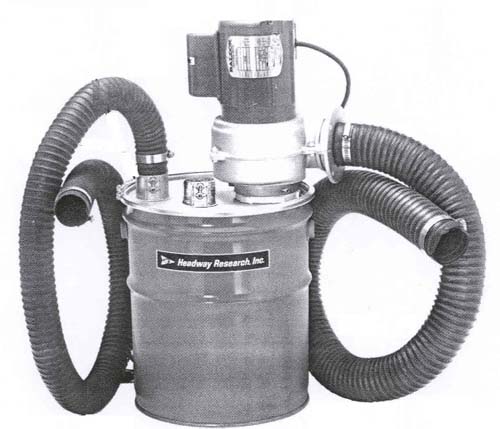 Specifications
Power Requirements:

Blower Motor:

Exhaust Flow Rate:


Exhaust Inlet:

Exhaust Outlet:

Dimensions:
115/230VAC, 50/60 Hz

1/2 hp, Class F 3400/2900 rpm

150 CFM at 1.75" SP (60 Hz power)
Inlet dampers provided to limit flow rate

1-3/4" diameter, two each

2-1/2" diameter, one each

24-1/2" in Height
(Allow approximately 10" additional on side for outlet hose connection)

Headway Research, Inc.
3637 Marquis Dr, Ste #102
Garland, Texas 75042 U.S.A.
Phone (972) 272-5431
Fax (972) 272-7817