HDP98 Fluid Dispenser
For Photoresist and Other Hi-Purity Fluids
The model PWM32 Spin Controller has been upgraded and new product is now called model PWM50.
We buy used equipment and factory re-furbish it at times, so the PWM32 may linger in our terminology and sales material for a considerable time. References to the PWM32 will be updated as soon as practical.
See the special page explaining the main differences in the two models.
The HDP98 Fluid Dispenser interfaces directly to all Headway PWM32, MP100, or PWM202 controlled spinners. The HDP98 also interfaces easily with other non-Headway controllers that send either a start pulse, or provide a switch closure for the exact dispense period.
The HDP98 will prove to be the lowest cost competitive fluid dispenser on the market with more features than our competition. Pump capacity is 85 ml minimum. Recharge time is generally under 1 second. Pumping pressure is adjustable to 60 psi.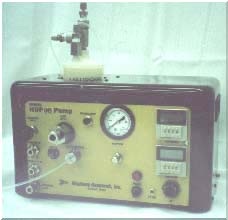 Fluid is sucked back from the dispense exit at the end of each dispense cycle. Time and rate of suck-back is easily set by the user, and is consistent once set.
Air entrained in the fluid is separated and is forced from the HDP98 via a different port than the output.
An optional sub-micron filter on the output is available.
The HDP98 can handle a wide range of viscosity, from solvents to high viscosity polyimides.
A dispense cycle can be instantly aborted if desired.
All wetted parts are stainless steel, Kalrez, or Teflon plus optional filter materials.
Extremely easy to use, Headway's HDP98 high-purity fluid dispenser represents a significant step in user friendliness. It is designed to be useful in a broad range of applications including Headway spin coaters and developers, user's own chemical dispensing applications, and for OEM use in their equipment for resale.
The 24 vdc required for operation is supplied by Headway's spin controllers. An optional 24 vdc power source is available for environments lacking a controller-supplied source of 24 vdc.
Two pins for operating the HDP98 provide a choice of pumping for the duration of an externally controlled switch closure; or, by starting an internally timed dispense period set by the operator from tenths of seconds to hours.
Fluid is ejected from the HDP98 by a Teflon diaphragm which is driven by air pressure. At the end of a dispense shot, the HDP98 is quickly recharged by vacuum pulling on the diaphragm. The heavy Teflon diaphragm isolates the fluid from atmospheric reaction or particle contamination. The quick recharge rate prevents the pump from biasing out of fluid on rapid dispense cycling. The HDP98 includes its own pressure regulator and gauge.
At the output of the HDP98 fluid dispenser, a suck-back circuit pulls the fluid back up the dispense line from the dispense point. This suck-back rate and time (distance) is easily set by a throttle valve and a digital timer. This feature provides ease of setting and consistent suck-back performance, even if a dispense cycle is aborted. The suck-back point is downstream from the optional in-line filter, isolated by a check valve. This prevents interaction between filters and suck-back performance. The material sucked-back is not returned directly to the dispense line, but can be routed back to the original container, causing it to be refiltered. Otherwise, it can be captured as waste if desired.
Free air can be a concern when captured in filter cavities or if ejected from the dispense line. The HDP98 provides a controllable bleed to remove air from a filter, or special air trap if no filter is used. Any filter exiting from this bleed point can be returned directly to the original container or it can be discarded as the user chooses. The bleed rate is user controllable.
This fluid dispenser is designed to facilitate easy replacement of filters, if used, without removing the pump cover.
TWO HDP98 MODELS AVAILABLE TO ACCOMMODATE THE TWO METHODS OF POWERING THE POST-DISPENSE SUCK-BACK OF FLUIDS:
HDP98G: Utilizes gravity powered (siphoning) suck-back. This lower cost model works well for situations where the dispenser can be located below the dispense point, and the fluid viscosity is not too high. Typically below 1,000 centipoise.
HDP98V: Utilizes vacuum power suck-back. This model works well for situations requiring the dispenser to be mounted too high in respect to the dispense point for gravity to work. The vacuum powered suck-back may also be required for dispensing very high viscosity fluids. Typically 1,000 centipoise and up.
Other Features and Requirements
Manual dispense button on the front panel
Clean low-impedance fluid path
Up to 85 ml per dispense shot
Up to 70 psi clean air or nitrogen input, negligible consumption
Vacuum source required. 23" Hg recommended
24 vdc required, supplied by HRI controllers or by optional external power supply
Size, approx: 13-1/2" wide by 9" deep by 12-1/2" high
Weight approx: 20 lbs
| | |
| --- | --- |
| Item | HRI Part Numbers |
| HDP98G One-fluid dispenser utilizing gravity powered suck-back | 4-22807 |
| HDP98V One-fluid dispenser utilizing vacuum powered suck-back | 9-23137 |
| Fluid filter, installed, 0.2 micron, polypro housing, PTFE element | 9-21502 |
| Fluid filter, installed, 0.1 micron, polypro housing, PTFE element | 9-23462 |
| Interface box, HDP98 to earlier Headway spinners | 3-23187 |

Headway Research, Inc.
3637 Marquis Dr, Ste #102
Garland, Texas 75042 U.S.A.
Phone (972) 272-5431
Fax (972) 272-7817