Spinner Mounting Options
The model PWM32 Spin Controller has been upgraded and new product is now called model PWM50.
We buy used equipment and factory re-furbish it at times, so the PWM32 may linger in our terminology and sales material for a considerable time. References to the PWM32 will be updated as soon as practical.
See the special page explaining the main differences in the two models.
Cabinet, Carts, Table Top Stands, and Controller Stands
Metal Cabinet and Options

Stainless steel top surface
Clean Room Compatible
Removable, hinged front and side doors
All process connections located behind cabinet to facilitate hook up
Four levelers to ensure substrates are level prior to start up
PWM32 Controller & PWM202 Controller mounted inside cabinet assembly. MP100 Controller is mounted on cabinet surface
Optional Cantilever Bracket available to mount PWM32 Controller above the cabinet surface

Item
Dimensions
Headway Part #
Metal Cabinet with Stainless Steel Top for CB15 Spinners
33"L X 29"D X 34"H
3-09968
Metal Cabinet with Stainless Steel Top for R790 Spinners
33"L X 29"D X 34"H
3-18277
Optional Cantilever Bracket compatible with CB15 & R70
adds 27"H for a new height of 61"H
2-24059
Table Top Stands for R790 Motor/Bowl Configurations

Inexpensive mounting for Model PWM32-PS-R790 Spinner
Medium density fiber board table top with cut out for R790 Motor/Bowl Configuration
PWM32 Mounting Bracket is included for PWM32 Controller
Four wooden legs 12" high allow stand to be placed on bench top

Item
Dimensions
Headway Part #
PWM32-PS-R790 Table Top Stand
26"L X 12"W X 14"H
2-23185
Table Top Stands for CB15 Manual Lid (ML) Motor/Bowl Configurations

Inexpensive mounting for Model PWM32-PS-CB15ML Spinner
Cylindrical stainless steel stand
Stand wraps around the CB15 Bowl, shielding the spinner motor assembly
CB15 Lid rests on top of CB15 table top stand

Item
Dimensions
Headway Part #
PWM32-PS-C15ML Table Top Stand
15" in Diameter X 17" H
Lid: 17-1/4" in Diameter
2-19199
Heavy Duty Plastic Cart for R790 or CB15 Motor/Bowl Configurations

Light weight plastic cart made of sturdy structural foam construction
Includes PWM32 Controller Mounting Bracket
Flat Bottom Shelf for mounting vacuum pump or other spinner accessories
Four large non-marking casters for quiet operation
Can be used for shipping protection or as a portable unit

Configuration
Dimensions
Headway Part #
R790 Motor/Bowl
37 3/4"L X 18 1/2"W X 33 1/2"H
9-23563
CB15 Motor/Bowl
44"L X 25"W X 37 1/2" H
2-23267
PWM32 Controller Stand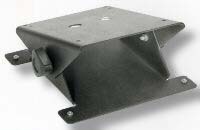 Supports PWM32 Controller
Can be mounted either on top of the controller to be table mounted or underneath the controller to be mounted under a table top
Stand allows the PWM32 Controller to be tilted upward as needed by the operator
Headway Part Number: 2-22621