Vacuum Sources
Oilless Vacuum Pump & Vac Steal - Vacuum Source Stabilizer
Oilless Vacuum Pump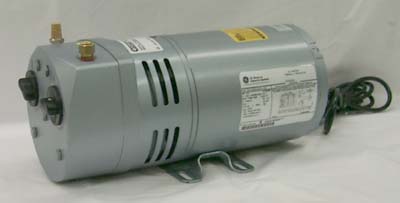 Headway's oilless vacuum pump is a precision rotary unit built of cast iron and steel. The HRI vacuum pump can be installed in any location where there is a flow of cool ambient air over the unit. The vacuum pump should be installed in a stable rigid operating surface to reduce vibration. Shock mounts can be used to reduce noise. The vacuum pump bearings are grease packed and should never be lubricated by the operator.
The following pumps are approximately 1/4 HP and will operate typically six to eight spinners.
9-21641 for 115 vac 60 hz service - approximately 4 cfm
9-23918 for 220 vac 50 hz service - approximately 4 cfm
The oilless vacuum pump can be used in conjunction with our Vac Steal vacuum ballast. The vacuum ballast is ideal whenever there is shared vacuum or when it is critical that a spinner operate on a continuous basis with no interruption. The Vac Steal serves as a buffer reservoir to provide high pumping capacity during peak requirements and catch up capability when requirements are lower than the pump capability. The Vac Steal is offered in three configurations:
Model #1: P/N 4-12508 - Ballast Tank
Model #2: P/N 4-12509 - Ballast Tank w/vacuum gauge and vacuum generator - Vacuum Flow is 1.1 CFM
Model #2A: P/N 4-12511 - Ballast Tank w/vacuum gauge and vacuum generator - Vacuum Flow is 4.3 CFM
Model #3: P/N 4-12512 - Ballast Tank to be used as a vacuum ballast or as a volume extension to other units.
The Vac Steal can be used with all Headway Spinners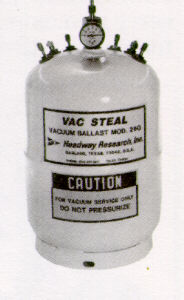 Vac Steal - Vacuum Source Stabilizer
Stabilize Vacuum Sources for Vacuum Chucks, Exposure Frames,
Holding Fixtures, etc. in intermittent service.
"Steal some vacuum when you can,
use it when you need it."
Vac Steal Features

No heat or spark generating components
Protect main vacuum source from corrosive fluids or particles

Complete Selection of Accessories

Vacuum generators (air driven)
Vacuum pumps (electric)
Vacuum actuated switches

0-30" Hg. gauge gives continuous vacuum level reading

Additional Vacuum capability
No increased energy consumption




Up to seven individual process connections
Individual connection to source
Average consumption of vacuum is sometimes well within a source or vacuum pump's capacity, but peak consumption for relatively short periods is too high. One solution is an expensive pump large enough to handle peak requirements, with its attendant energy consumption, noise, heat, pollution, etc. A better solution is a buffer reservoir to provide high pumping capacity during peak requirements and "catch-up" capability when requirements are lower than the pump capability. Such a buffer is noiseless, clean, acts as a trap to protect the pump from corrosive liquids or foreign particles and can even permit a pump to be automatically stopped during periods of no vacuum usage.

Vacuum source problems are aggravated by multiple users. Therefore, each user should have his own ballast. Each ballast is isolated from the source by a check valve. This prevents loss of vacuum when other users drag down the main vacuum line.

In some cases, the "down" periods of the source may be longer than can adequately be protected against with a ballast. A good solution may be a "vacuum booster" to come into play only when required. With the VAC STEAL, two kinds of boosters are offered. One kind is a compressed air driven vacuum generator (venturi orifice design) with auto sensor to turn on the air only when needed. Two models (sizes) are available to suit your needs. When sized adequately, they can act as occasional boosters, or as independent source vacuums.

The other kind of booster, or source, is an electrical driven vacuum pump which can be sized for most any application. A vacuum operated switch is available to control such a pump so that it runs only when needed to maintain the desired vacuum.

Features Expanded

The basic VAC STEAL is a tank, a check valve and appropriate user connections.

The tank is simply a 2.6 gallon (10 liter) reservoir to trap a supply of vacuum. The trap is the check valve which will "steal" vacuum from the main line when the main line vacuum is better than the vacuum in the tank. If the main line vacuum falls below the tank vacuum, the check valve closes, protecting against vacuum loss from the tank back to the main line.

Outlet Connections:
For convenience, two types of outlet connections are standard on the VAC STEAL system. Three Polyflo and four hose barbs provide an outlet choice from each VAC STEAL tank. Mating Polyflo fittings are included for 3/8" O.D. Polyflo tubing.

Inlet Connections:
Both a hose barb and Polyflo fitting is included for connection to the vacuum source. Polyflo tubing (part #9-13019) and gum rubber vacuum tubing for barbs (part #9-02840) are sold as accessory items. Extra ferrules for 3/8" Polyflo fittings are available (part #9-13020).

Being a passive system, the basic VAC STEAL creates no heat, sparks or fumes. It can improve vacuum line performance in a clean or hazardous environment without introducing problems which an additional motor driven pump could create.

The VAC STEAL also acts as a trap to catch and hold liquids or solid particles which could otherwise get into your main vacuum source and damage it.

An accessory clamping kit is offered for secure installation in mobile or high vibration applications.

Being a simple passive solution for intermittent vacuum problems, the original cost of the VAC STEAL is significantly less than adding additional vacuum pumps. Economy in operation is gained because no additional energy is required. Economy in service is gained because there are no parts to wear out with use. Economy may also be gained because no noise is created to shield against and no pollutants are generated to exhaust from clean areas.

Visual Vacuum Indication - TOP

Many process problems are caused by unrecognized vacuum deficiency because no convenient vacuum gauge is available. The VAC STEAL includes a gauge monitoring tank vacuum level so any deficiencies are immediately recognizable. Deficiencies may be related to the vacuum source or to leaks on the process side. The gauge simplifies the isolation of problems.

Improves Existing Source - TOP

Instantly improves existing vacuum sources. Fluctuating vacuum can mean process failures or equipment stoppage. In processes requiring intermittent vacuum usage, the VAC STEAL will capture and hold the vacuum at the highest level attained. A built-in check valve ensures that no vacuum is lost from the tank back to the source when other users drag down the source. Additional VAC STEAL units can be added as required to give increased volume. Using existing vacuum sources only, there is no increased energy consumption.

Some quite adequate vacuum sources are severely hampered by restrictions such as a high impedance throttle valve tapping off to the user. The best solution is to eliminate the high impedance. If for some reason this is impractical, a VAC STEAL can quickly and easily resolve the problem by supplying high pumping capacity during surge requirements, downstream of the restriction.

Minimum Common Vacuum Line Impedance - TOP

Small vacuum lines in a machine can sometimes causes feedback from one portion of the machine, or process, to another. This is caused by common vacuum impedance feeding more than one vacuum usage point. Using a VAC STEAL to manifold several usage points directly into the main vacuum capacity, completely isolates one usage point from another.




Download technical information on this item: technotek-11-16.pdf. You will need the free Adobe Acrobat Viewer.







Headway Research, Inc.
3637 Marquis Dr, Ste #102
Garland, Texas 75042 U.S.A.
Phone (972) 272-5431
Fax (972) 272-7817