LS22 Controllers and Motors
The model PWM32 Spin Controller has been upgraded and new product is now called model PWM50.
We buy used equipment and factory re-furbish it at times, so the PWM32 may linger in our terminology and sales material for a considerable time. References to the PWM32 will be updated as soon as practical.
See the special page explaining the main differences in the two models.
LS22 Controller Options
For the needs of different processes, LS22 spinners come with two pulse-width modulated (PWM) controller options.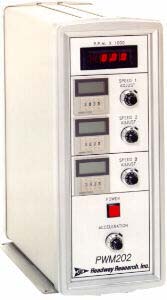 The PWM202 controller supports one-fluid coating or two-fluid developing processes with three independently controlled times/speeds. Three independent manually set digital timers support spin time settings of 0.1 to 99.9 and 1 to 999 seconds, minutes or hours. An LCD bar graph on each timer, dynamically displays the percentage of the remaining time, while the timer is active. A digital LED meter displays the motor rpm when the motor is running. The PWM202 is compatible with several simple dispensers.
The PWM202 controller operates at 115 volts ac, 50/60 Hz. The controllers supply all power to the system, including 24 volts for dc circuit control. Transformers are available for 220 volt ac operation.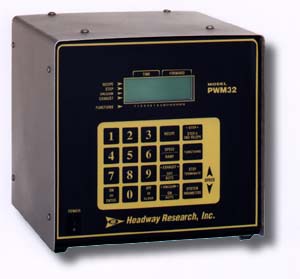 The PWM32 controller has a digital readout tachometer and a keypad entry for programming. The unit has multiple recipe memory (program sequences) and can store up to 10 separate recipes with up to 9 separate program steps per recipe. The liquid-crystal display (LCD) displays rpm, process times, programming prompts and input and system status information. The speed and acceleration can be set uniquely in every program step and the speed can be manually adjusted while the process is running.
The PWM32 controller has an internal transformer for 110/220 volt ac 50/60 Hz operation.
LS22 Spinner Motor Options

BD2 and BD5 Motor

PS Motor

The two motors available with LS22 spinners offer flexibility for the needs of different substrates. the 1/2 -HP BD5 motor offers sufficient power for large substrates with a top speed of 5,000 rpm. For even heavier substrates, the 1/2 HP BD2 motor provides twice the torque with a top speed of 2,500 rpm.
HRI Part Number
Motor (Top RPM)




PWM202 Controller
115 vac, 50/60 Hz
3-22573
BD2 (2,500 RPM)
PWM202-BD2-LS22
3-22574
BD5 (5,000 RPM)
PWM202-BD5-LS22
HRI Part Number
Motor (Top RPM)




PWM32 Controller
110 or 220 vac, 50/60 Hz
3-23774
BD (2,500 RPM)
PWM32-BD-LS22 (110 vac)
3-23775
BD (2,500 RPM)
PWM32-BD-LS22 (220 vac)
LS22 System Components
Controllers

PWM202 Highest motor power, non-programmable, three-speed.
PWM32 Microprocessor Sequence Controller. More programmability than the PWM202 controller.

Headway Research, Inc.
3637 Marquis Dr, Ste #102
Garland, Texas 75042 U.S.A.
Phone (972) 272-5431
Fax (972) 272-7817