The model PWM32 Spin Controller has been upgraded and new product is now called model PWM50.
We buy used equipment and factory re-furbish it at times, so the PWM32 may linger in our terminology and sales material for a considerable time. References to the PWM32 will be updated as soon as practical.
See the special page explaining the main differences in the two models.
To prevent harm to operators or materials, all LS22 systems come with several integral safety features. Magnetic sensors, on the cabinet, prevent a spin cycle from beginning when the upper protective doors are open. If the doors are opened during a spin cycle, the sensors immediately abort the cycle.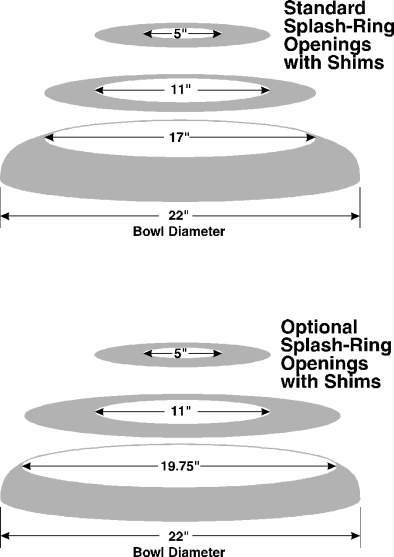 All LS22 systems have a speed sensor circuit that prevents the vacuum from being turned off while the motor is spinning and keeps a new cycle from beginning until the motor stops. In addition, a controller interlock circuit stops the motor if the system loses vacuum and prevents the motor from starting with insufficient vacuum.
Finally, the LS22 systems are equipped with a vacuum valve that is powered shut by the controller until vacuum is needed. Therefore, if main power is lost during a cycle, vacuum remains applied to the chuck during the deceleration. Additional vacuum ballast in the system maintains vacuum on the substrate chuck until rotation stops.
LS22 Bowl
The LS22 electropolished stainless steel bowl has in inner diameter of 22-inches. Two choices of splash rings are available, each with two shims to achieve the best match of opening and substrate diameters. The bowl can be used with or without the splash rings, allowing the use of maximum size substrates within the full inner diameter of the bowl.
Deep bowl construction enhances process flexibility. Three exhaust ports in the bottom of the bowl serve to maximize exhaust air flow, removing fumes from the lab and the process environment.
LS22 System Components
Controllers

PWM202 Highest Motor power, non-programmable, three-speed.
PWM32 More programmability than the PWM202 controller.