LS22 Cabinet and Accessories
The model PWM32 Spin Controller has been upgraded and new product is now called model PWM50.
We buy used equipment and factory re-furbish it at times, so the PWM32 may linger in our terminology and sales material for a considerable time. References to the PWM32 will be updated as soon as practical.
See the special page explaining the main differences in the two models.
The LS22 system cabinet offers the smallest footprint available for a spinner with a 22-inch bowl. The all-steel lower cabinet is durable, with a stainless steel top that resists corrosion. A wide front door and removable side panels make for easy maintenance access. Each side panel can be replaced by a stainless steel cart for mounting dispenser components and solvent containers.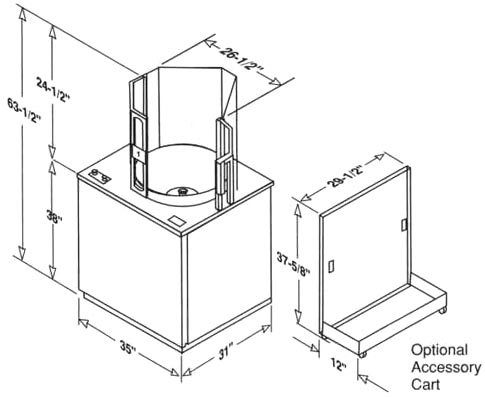 Protection Zone:
Stainless steel panels and access doors above the process area protect operators from the spinning process and the process area from outside contaminants. Polycarbonate observation windows in the doors provide process visibility for the operator. The open top "cylinder" design of the panels and doors provides a clear path for downward flowing laminar clean air in a typical clean-room environment. Exhaust ports in the bottom of the bowl provide for pulling the clean air through the process area and out of the lab.
LS22 Accessories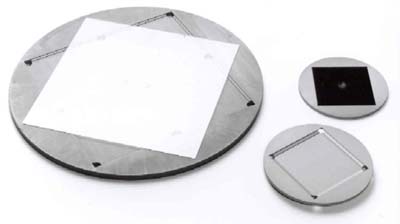 Chucks:
Designed for the heavy-duty large spinners, which are typically limited to 2,500 or 5,000 rpm
Held to the shaft adapter by either one screw in the center or two screws off-center.
Driven by two heavy duty stainless steel drive pins, not the screws.
For light-duty work, an LS-to-EC adapter is available to permit the use of the EC Type chucks on an LS type machine.
Headway offers a wide range of chucks for holding and spinning a variety of substrates. Available chuck designs are:
Flat Surface
O-Ring
Mechanical Locating
Recess/Carrier
Recess/Non-Vacuum
Magnetic
Raised Center
A wide variety of custom chucks
Vacuum, mechanical locating, clamping or magnetic forces are used to hold substrates on the chucks. Stainless steel, hard anodized aluminum, and various types of plastic chucks are available to suit different process requirements.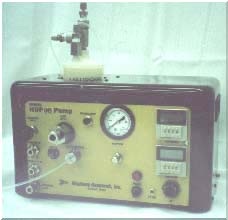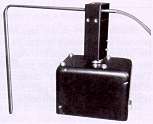 Fluid Dispensers (optional): Depending on the controller used, LS22 spinners are compatible with a variety of Headway fluid dispensers. Different types of dispensers provide combinations of nitrogen blowoff, resist dispense, solvent spray, spin dry and time delay. Dispense functions can be integrated with analog positioning using moving arms that can reposition dispense lines. Stationary, two-position and fully programmable moving dispensing arms are available.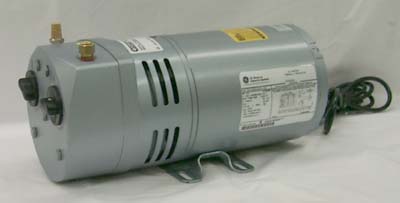 Vacuum Pump (optional): For installations without a reliable vacuum source, Headway 1/4 HP vacuum pumps provide approximately 4 cfm at atmospheric pressure. In conjunction with a Headway Vac Steal vacuum ballast as buffer and distributor, a pump can adequately service four to eight spinners. Compressed air vacuum generators that can be used with Vac Steal vacuum ballasts are also available. As part of the vacuum system, a check valve stabilizes vacuum to the spin motor to maintain safe levels of operation.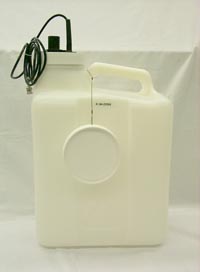 Waste Container with Full Sensor (optional): For collecting waste safely without danger of overflow, Headway supplies a waste container with a built-in sensor that determines when the container is full and prevents a spin cycle from starting until the container has been emptied.
Solid Product and Customer Support: For over thirty years, Headway Research has maintained a tradition and commitment of product innovation and customer support. Headway systems are designed for easy maintenance, as well as operator safety and robust operation. Instruction manuals include system isometrics for proper identification of machine part numbers -- just one small way that Headway strives to keep its customers satisfied.
LS22 System Components
Controllers

PWM202 Highest motor power, non-programmable, three-speed.
PWM32 Microprocessor Sequence Controller. More programmability than the PWM202 controller..

Headway Research, Inc.
3637 Marquis Dr, Ste #102
Garland, Texas 75042 U.S.A.
Phone (972) 272-5431
Fax (972) 272-7817