Protection Zone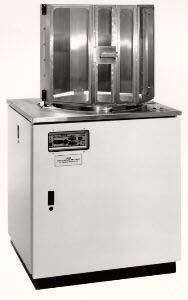 Cabinet
The LS22 Series of large substrate spinners is designed for versatility, ease of use and safety in a variety of manual and automated research and development processes. The spinners are ideal for processes such as the coating and developing of large photomasks, reticles, pellicle production plates, and optical compact and video disk masters.

Housed in a cabinet that promotes safe, simple operation, LS22 spinners include a deep 22-inch I.D. bowl with an exhaust connection, choice of three motors to meet substrate requirements, and choice of three controllers to support various degrees of process complexity. The spinners are compatible with a variety of Headway accessories, including vacuum/non-vacuum chucks, vacuum generating equipment and fluid dispensers.

LS22 System Features
Options of two direct-drive, PWM-driven motors
Many standard safety features; rotation sensor, vacuum and door interlock, etc.
Stainless steel bowl with 22-inch I.D. and deep construction for enhanced process flexibility
Protective barrier between process area and operator with a clear view of the process area
Durable steel cabinet with stainless steel top
Variety of accessories: Vacuum pumps, chucks, waste collectors, dispensers, etc.